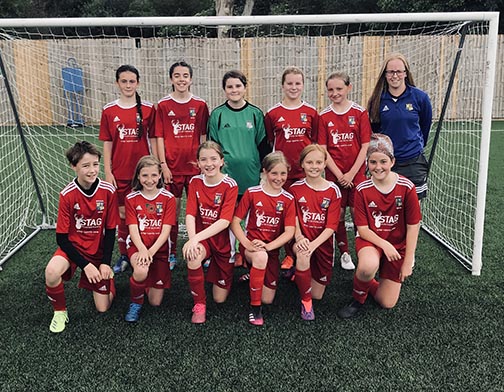 Saints fly into the COVID Cup Final
Since the return of football, Southam United Girls' teams have all been participating in the COVID Cup. Hard work and determination saw the U11s Saints through to the final after a great run through the group stages and semi-final.
The Saints found themselves in a group with Stratford Town, Coventry City Red, Southam Devils, Lillington and Coventry United. Scoring a whopping 87 goals in the group stages and only conceding 13, the team flew into the semi-finals as the best runner up from the three groups.
The stage was set for a tough semi-final match against unknown opposition Solihull Moors DA. It was a nervy start, with the Saints finding themselves a goal down early on, however this didn't unsettle the team and if anything, helped them realise making mistakes were okay and to learn from them. Throughout the game, the Saints looked to play football the right way and this started to pay off as they took control of the game. The girls all played amazing and looked to battle right until the final whistle. They got their reward, emerging eventual winners, after some fantastic attacking and defensive play from the entire team.
The final takes place on Sunday 27th June, 11:30am kick off at Dickens Heath Sports Club against Coventry City Blue.
A massive well done for the Saints for getting to the final - and good luck!
News // 17 weeks ago