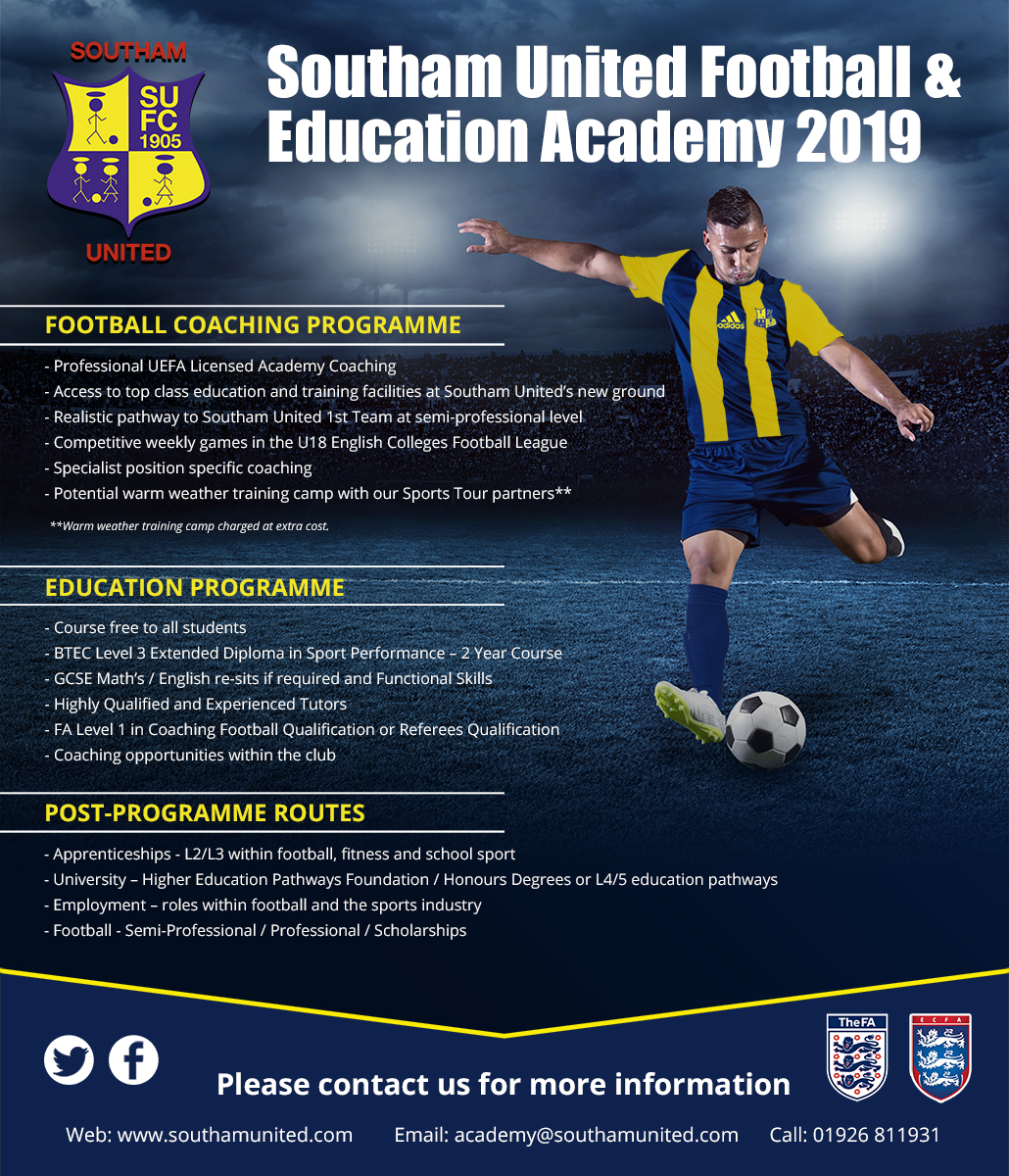 Southam United to launch Full Time Football and Education Academy for Sept 2019
Southam United are delighted to announce the launch of a Football and Education Academy commencing in September 2019.
To be run in conjunction with the Future Lions Education Academy, the initiative is aimed at current Year 11 students who are planning for a career working in the sports industry. Students will be able to undertake a BTEC Level 2 or 3 Extended Diploma in Sports Performance on a 2-year course run by experienced and qualified tutors. The course will include the opportunity to undertake football coaching and refereeing qualifications as additional learning within the programme.
Academically, English and Maths GCSE tutoring and re-sits will also be provided where required. Also on offer are post-programme routes to apprenticeships, employment, university and football opportunities at semi-professional and professional levels.
As a part of the Academy, students will be coached weekly by UEFA licensed coaches and play in regular competitive games on Wednesday afternoons. The football programme offers students access to Southam United's top-class education and training facilities at their new home at Bobby Hancocks Park on the outskirts Southam.
""We're delighted to announce our new Football and Education Academy as a first step to an exciting future for Southam United" said Director of Football Wayne Goss.
"We will be able to offer current Year 11 students the opportunity to study for and attain a nationally recognised BTEC qualification as well as training and playing full-time as a member of our Academy."
"We're equally delighted to be partnering with the Future Lions Education Academy who are experts in delivering BTEC Sport qualifications and have the experience and ethos to deliver a first class learning experience for the students."
Future Lions Education Academy Director Ritchie Jeune said of the new partnership:
"Future Lions are delighted to support Southam United with their new bespoke programme for 16-18 year olds. We believe that they will have some of the best facilities locally including a state of the art classroom, 3G pitch and training pitches."
"They also have a determination to offer "the best" and we look forward to working with them on giving local footballers the best experience they can get on and off the field."
Southam United are inviting current Year 11 students to get in touch at academy@southamunited.com to book a place at one of the forthcoming open evenings.
News // 147 weeks ago